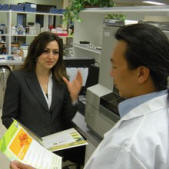 About Ed
Ed Greene
Nine years a BioTech R&D Sales Rep (w/Princeton Separations a very small Freehold, NJ company) ListOwner was based out of San Diego with a 15 state territory ... retiring from this (my last 9-5 job) end of 2006!
10 years a "Clinical Diagnostic Sales Rep of Reagents and Profiling Diagnostic Instruments" (Worthington Diagnostics a NJ company)... often flying myself in a Cessna RG-177 or Mooney Exec to make sales calls in the SouthWest territory of 5 states/NM/AZ/TX/NV/SoCA .. all while living 'outa San Diego.
3 Years spent slaving away in "Employment Research Job Profiling Software" Sales (ERISS-San Diego)
Founder in 1999 (till last quarter 2008 ended my ownership) of 2 currently operating BioTech Vendor Groups for SoCA (SDCVG) & BAY area (BABVA) with >45 insurgent raucous very cool BioTech sales reps ...all of 'em less than half my age.

Living on 'BEANS' afloat in the Shelter Island Marina on San Diego Bay in Warm and Sunny San Diego aboard a CARVER 4207. This is a 42 Foot 2-sleeping-cabin power Yacht with twin, very noisy, CAT-375 HP Turbo Diesels, plus w/my wife of 42 years Betty Jean [RN] a U.S Navy Nurse when we met in Japan during Vietnam.
See the retired-out-to-pasture video of Ed 'going to work 9-5 at EJL on 'BEANS'.
Read the hundres of positive
Testimonials
Ed has received over the years from successful job seekers.