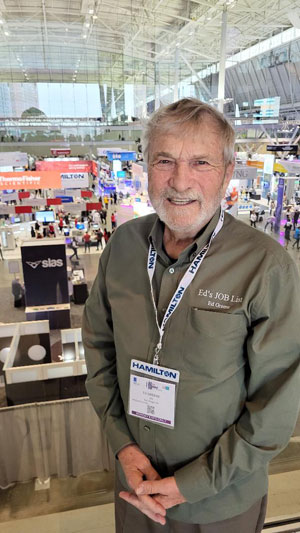 Privacy Policy
Ed's Job List, Inc. has created this privacy statement in order to demonstrate our commitment to protecting your personal information. The following discloses our information gathering and dissemination practices for our Internet site www.edsjoblist.com.
At Ed's Job List, Inc., we intend to give you as much control as possible over your personal information. If you join www.edsjoblist.com and select to receive LifeSci jobs, then we collect the briefest of information from you, or you may choose to provide information of a friend or acquaintance, such as name, e-mail address and/or city and State. It is our intent by this statement to let you know before we collect such personal information from you on the Internet and to obtain your prior permission for its collection and use.
What we do with the information we gather and track
The information gathered from you, or provided by you in any forms you fill out will be used in one of only 2 ways:
To provide you with information solely about LifeSci jobs only by e-mail blast! [that's it!]
To allow you to receive [via e-mail blasts] LifeSci jobs for the region[s] only you selected.
We do not have any Links, or any Java [cr]applets to 'mess with you"
If you want to see POPUPS mess up your screen, you're going to have to find another site. Ed' Job List does not mess with your computer at all.
Updates
Please visit our website at any time to receive future updates to the Privacy Policy.
Business Partners
We have zero zip nada partners. This is a sole proprietorship owned only by Ed Greene and wife Betty Jean Greene [RN] since 1999. This web site, www.edsjoblist.com, does not contain links to any site… your name and address and data you gave me when you joined this list is never sold, never rented, never shared with a single living soul.
And you may unsubscribe at any time.
We do keep track of the domains from which people visit us. Ed Greene alone analyzes this data for trends and statistics, and then it is discarded.
Security
This site has security measures by 2 very competent groups of IT-Geeks to protect the loss, misuse and alteration of the information under our control on our solely owned [never shared] Ed's Job List server in sunny and mild San Diego.
Contacting the Web Site
If you have any questions about this privacy statement, the practices of this site, or your dealings with this Web site, you can contact the List Owner of this LISTSERV directly by snail mail to:
Ed Greene
Ed's Job List, Inc.
3538 Elsinore Place
San Diego, CA 92117